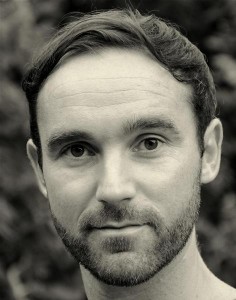 In April of this year, ScarletSherlock and I cheerfully participated in a film tweet-along for Asylum's Sherlock Holmes (2010), starring Ben Syder, Gareth David-Lloyd (Ianto on Torchwood) and some dinosaurs. It's a trip of a flick, and has enjoyed a cult-like status among Sherlockians. With good reason: It's delightfully campy, directed with a wink and a nod, and both Syder and David-Lloyd are charming.
As the tweet-along began, Syder popped in to rally the watchers and add an extra dose of cheer. I asked him if he would answer a few questions, and he graciously agreed.
Many, many thanks to Mr. Syder for his time and attention!
Were you a Holmesian prior to this film? Have you read the Arthur Conan Doyle canon? If so, what is your favorite story/novel? You can pick two if choosing one is just too cruel.
Truthfully, I only had vague recollections of anything Holmes as my dad was a huge fan of the canon and of the Granada version from the 80s (For him Brett is the only Holmes!) – so I vaguely remember seeing snippets of the Granada show as a kid.  When I was auditioned for Asylum's version I auditioned for the role of Watson but they also asked me to read for Holmes and I only found out at the very last minute that they wanted me to play Holmes.  I would have loved the opportunity to do proper research and familiarise myself with the canon and build a character but sadly this was last minute indie filming so I just had to roll with it!  After filming I watched both Robert Downey Jnr movies (I'm a big fan of his in general, and I was happy to see the return to form of director Guy Ritchie), but I can also say that since being a guest at 221B Con I've become more of a fan.  The guests' passion was infectious and I literally got back from Atlanta and began to watch the BBC series that day (I'd seen a couple of episodes, but they've made me take it more seriously – in fact I'm literally hours away from going to watch the Sir Ian McKellan film – what have they done to me?!)
From the canon, well… you can't beat a bit of positive discrimination for the gingers can you?  No, I enjoyed The Red-Headed League, but I'd say my favourite is The Final Problem.
Do you have a favorite film or TV Holmes? If you don't want to alienate other actors, do you have particular scenes from films/TV that you really appreciate?
While my dad will kill me for not picking Brett, I barely remember that era.  I'm a huge admirer of Downey Jnr but for me it's Benny C (I've just got tickets to see him on opening night in Hamlet, my favourite Shakespearean play and a dream role of mine, so if he messes that up I might change my mind!)
What sort of research did you do after you were hired? Did you read up on the time period?
As mentioned above there really wasn't an opportunity.  This is not to bad-mouth Asylum whatsoever, but the nature of the pre production and production itself was to rapidly wing it.  The (largely) American crew were flown over to rural Wales and asked to throw this film together with little time, money or facilities and this makes it a testing endeavour for both cast and crew alike.  At the time I was (privately) immensely frustrated that I had no time to develop any character, but there was no time to dwell on that, everyone has to pitch in and get the job done, and ultimately I think it's a testament to the crew that they succeeded in making a film in those difficult circumstances.  If we had a magic wand I would've relished a few weeks to read some of the canon, research the era, build a character etc, but as that wasn't possible I just had to accept this was a tongue-in-cheek version and have fun with it.
Speaking of the time period, what was going on with those costumes? We're sure you didn't have any control over wardrobe, but did you look down and say to yourself, "I think Sherlock Holmes shops at Banana Republic?" Not that there's anything wrong with BR, but it doesn't seem right for Victorian/Edwardian Holmes to be rushing about in chinos. We won't even mention Mr. David-Lloyd's amazingly petite waistcoats.
Haha!  Yep, like all things the costume budget was pretty much non-existent, so we had to go with what we could.  The deleted scenes with me in a GAP hoody and NY Yankees baseball hat gladly didn't make the final cut.
You've been very complimentary of Gareth David-Lloyd, which makes us smile. How was your experience working with Dominic Keating?
You know what, Dominic was an absolute breath of fresh air.  We'd done a few days of filming already and things were understandably frantic as we were all coming to the realisation that we had quite a task ahead of us, and Dominic rocks up on his first day of filming (a night shoot) and cracks a smile and asks for a Guinness.  Right away I knew he'd be fun to work with.  I think more than anyone, right away he got how absurd this version was meant to be.  Genuinely gregarious fella to be around.
How long was post-production on this film? Were you surprised when you saw the dinosaurs on the screen versus the way they look on the poster?
There was a lot I was surprised by!  The only involvement I had in post was doing audio.  Unfortunately there had been a problem with the sound so I went along to a studio in London for a few hours.  They looked at me with horror when they showed me all the files that had to be recorded – almost all of my scenes had sound issues so to record them all would take a few sessions rather than a few hours!  But it's indie movie making, so we did what we could do.  We had to do these lines in one take only.  Through the headphones I had the scene running with the sound engineer in one ear and Rachel the director in the other (bless her, it must've been early hours in the states but with this mountain to climb she took it, as always, in her stride).
Are you angry that you're not involved in the new "Jurassic Park" film? You've certainly paid your dinosaur dues.
Yeah, I plan to sue.  Is it just me or does Chris Pratt look a little like Gareth David-Lloyd in that movie.  Seriously, just squint your eyes a little and imagine that leather waistcoat 4 times smaller and you're there.
When was this filmed in relation to the RDJ films? Were you (and the cast/crew) consciously aware of the level of imitation, or did you all just embrace the idea of a "mockbuster" in general on go your own way?
I'm pretty sure it was filmed a couple of months before the RDJ release.  Nobody ever brought it up on set.  I knew nothing of Asylum prior to filming but obviously afterwards I realised their savvy approach.  Of course I knew it was going to be a mockbuster riding the RDJ wave, but I didn't realise that marketing would be aligned etc.  I'd like to think RDJ rode my wave; a little ripple off the coast of North Wales…  Seriously though, I briefly lived with a South African girl and after living with me for a few weeks we were in the pub talking about both of our lines of work and she said "Y'know, you look just like Robert Downey Junior".  Now I know I look nothing like him, but he's a handsome bastard so I took the compliment.  However, my ego was swiftly brought crashing down as the more she talked, the more I realised she'd mistakenly bought Sherlock Dinos and watched me on her screen (with me in the bedroom directly under hers).  Nonetheless, she went about her day, eating breakfast with me oblivious to the fact that Guy Ritchie had SERIOUSLY spunked his budget and Jude Law  had acquired a penchant for ridiculously tiny waistcoats.
Seriously, was calling your Holmes "Robert" a nod to Downey Jr.? Because that came out of nowhere. Even Baring-Gould named him William.
Truthfully, I've no idea.  It may just be a daft joke or it may be a nod to RDJ.
Do you have any other on-set/off-set anecdotes that you haven't shared with the Holmesian fans?
I can't really remember what I babbled at the 221B Con [Syder attended the conference in May 2015]  but I'd probably say my favourite anecdote was when we were doing a night shoot on a Friday night and in the early hours of the morning they'd finished filming my scenes but wanted me to wait around for a couple of hours for Gareth to return from a gig to do some other scenes with him.  Now, I didn't have a trailer so I was kinda left to my own devices.  So at 2am, on a Friday night, when all the merry Welsh are heading home after a hard night partying, I rock into a KFC to grab myself a Zinger Tower burger. Victorian garb, mutton chops and all.  The place fell silent and people looked at me like I was a crackhead.  Either that or they don't have Banana Republic in North Wales.
Did you "liberate" any props from the set?
No, but a photographer gave me a picture of the moment I shot Thorpe which is kinda cool.
What was Rachel Goldberg like to work with as a director?
Great.  She's so calm, which cannot be underestimated when trying to put together a project like this under those circumstances.  She has this combination of being focussed but relaxed, so I'm not surprised she's doing well.  Of course she was also helped by the tremendously hard-working crew.  I think the decisiveness of her DP, Adam, probably helped a lot, as did the huge amount of co-ordinating done by Helen Pritchard.
How much input did Syfy/ The Asylum have over the film/script/production? Did they give any inclination that they anticipated how popular the film was going to be?
I've had no dealings with Syfy or Asylum so I really couldn't say.  I've heard they were very surprised at how popular it was at the time and how it still has a cult following now.  And let me say I'm genuinely grateful for the affection shown to this film by people such as the crowd at 221B Con.  They embrace it for the ridiculous funny ride it is and I so enjoyed sharing some Sherlock nostalgia with them in Atlanta.
How does it feel to know that you will be remembered in the annals of Holmesiana alongside Basil Rathbone, Robert Downey Jr., Sir Ian McKellen, etc.?
Haha!  Yeah if I play Iron Man and Magneto at any point in the future then my old South African housemate's head will explode.  (Basil, you let the side down by being born too early to play Ant Man).  But, really, these are definitive portrayals loved by millions.  I'm just glad a cult following has found the fun in the Asylum version.  To be remembered by them for playing an iconic character they are truly passionate about makes me smile.
What are you working on presently? Are you planning to attend any other Holmesian conferences or parties?
Currently I'm filming an internet series with a friend of mine, Jonny Leigh Wright.  It's comedic commentary on film, TV, music etc and we're in talks with Channel 4.  We also write together and are developing a sitcom with Hat Trick Productions called Wing Man which we hope to star in.  Similarly I am developing a John Lennon script for Film Agency Wales with my other writing partner James Leighton.  Hopefully in the near future I will be reprising a role from last year.  I performed in Cream Tea, a play written by an amazing writer called Sean Mason.  It was very well received so he's currently writing a new version which I look forward to seeing how it develops.  As for conferences, I never even knew of that world until 221B Con invited me, but if future invites came I'd embrace them after experiencing such a warm reception.