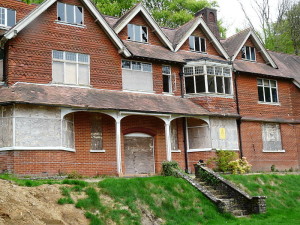 I don't know about you, but I've found the whole business surrounding the "preservation" and/or "restoration" of Undershaw (Sir Arthur Conan Doyle's Hindhead home) a bit confusing.
In some cases, I'm getting the feeling that some of it is obfuscation. That's another story for another time. It's important, I believe, to know exactly what is going on before you choose to offer support to any cause. Everyone should go into the situation with clear eyes.
So I thought I'd lay out what's what (as far as I can tell), according to an article posted yesterday on the Get Surrey website.
The headline reads, "Sir Arthur Conan Doyle's Undershaw home: Permission granted for judicial review into school redevelopment." Here's how this seems to break down:
1897: ACD designs and builds Undershaw for his first wife, Louise, as she recovers from TB. There, he gets his write on, producing The Hound of the Baskervilles and The Return of Sherlock Holmes among others.
1924- 2004: Undershaw is repurposed as a hotel and restaurant.
2007: The Victorian Society applies to have Undershaw awarded a Grade I listing, as a protective measure.  The application is rejected by the Secretary of State for the Environment, who said Conan Doyle was not a 'literary great' like Jane Austen. The Holmesian world growls.
2009: Undershaw is earmarked for conversion into 11 flats. The Holmesian world wails.
2012: Campaigners triumph, and Undershaw is not turned into a slew of flats. The Holmesian world cheers.
2014: The David Forbes-Nixon foundation purchases Undershaw. The foundation receives full planning permission to convert the home into a school for children with a range of disabilities, called Stepping Stones School. Heritage campaigners, led by John Gibson of the Undershaw Preservation Trust, mount a vigorous defence.
I emphasize the word "convert," because the foundation seems to be making substantial and drastic changes to the property. The Undershaw Preservation Trust's home page features a collection of anonymous quotes speaking about the wretchedness of the changes already made. Now, I appreciate why people wouldn't want to sign their name to these comments. However, I want to see some evidence. I did a quick Googling, and I couldn't find actual pictures of the hideous side extension or any of the other elements I've heard described. It sounds pretty awful, but I'd really like to know more specifics.
July 14, 2015: Mr. Gibson appeals for a judicial review into the planning permission granted to the foundation. It is rejected.
August 11, 2015: Mr. Gibson has a further oral hearing in front one Mr. Justice Singh, who granted permission to mount a full judicial review challenge.
In the Get Surrey article, a representative for the David Forbes-Nixon foundation is quoted as saying, "It is unclear what Mr Gibson now hopes to achieve with this latest attempt to block our development. All the demolitions are complete, the foundations and retaining walls in place, the hydrotherapy pool under construction and the steel frame for the new extension being put in place."
So that's what we know has already been done to Undershaw.
The more you know…