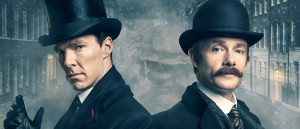 And that happened. 
(Spoilers from here on, FYI. You've been warned. Hugs and kisses!)
This is a review composed in repose, in tranquility if you will. Thankfully, I don't make my living as an overnight critic anymore, so I can happily grant myself the luxury of viewing, contemplating (or raging, in some cases), then revisiting the work and giving it another consideration. In some ways, I think I could have written my review as I was watching "Sherlock: The Abominable Bride" on Friday night, but that wouldn't have been a good representation of my evaluation. Here, a few days out and a second viewing under my belt, I'm ready to put fingertips to keyboard.
From the very first mention that there would be a holiday special for the BBC's "Sherlock" and that it would be set in the Victorian era, I rolled my eyes so hard one nearly popped out, Pekinese-style. The fanfiction of your own fanfiction … to AU your own AU … and into the source material's framework no less? The folks on Archive of Our Own are wise enough to hold fests for this sort of malarkey so that it doesn't happen too often. (For the purposes of me, "fanfiction" is not a pejorative term. I use it in the same way I would use "derivative," but as a netizen outside of the academic classroom, that's how I'm going to roll.) The idea of shoving Cumberbatch into Victorian garb and slapping Donald Trump's hairpiece on poor Martin Freeman's stiff upper lip, while keeping them in the context of the BBC!Verse, seemed hackneyed at best and the nastiest fanservice at worst. How could time travel actually work? Please don't even TELL me it could be a dream…
Fast forward to Friday, January 1, 2016.
I live-tweeted that night, and I live-tweeted my second viewing on Sunday, January 3, 2016, if you would like to see my raw, gut reaction in time with my eyes beholding the dastardly vision. Here we go, however, Wordsworthian style: Read More