Sad news – Patrick Macnee has died.
According to a statement on his website, the Avengers actor passed away today, with his family by his bedside. He was 93 years old.
Macnee was best known for playing the internationally recognized, charmingly elegant, quintessentially English, and slightly mysterious character of John Steed in the 1960s' British television series, The Avengers. Patrick Macnee, along with co-stars Ian Hendry, Honor Blackman, Diana Rigg, Linda Thorson, Joanna Lumley, and Gareth Hunt, created a unique identity that has reverberated for nearly half a century. The pioneering television series aired throughout the 1960s, and The Avengers became known for its progressive approach to feminism, the female stars being more than a match for Steed…and a plethora of "diabolical master minds." The programme was also known for its creative team's interest in stories about cutting-edge technology,
In addition to The Avengers, Macnee also appeared on Broadway in "Sleuth," in addition to films like A View to a Kill and The Howling. He also appeared in the original Battlestar Galactica and The Love Boat.
In 1991 he played Dr. Watson alongside Sir Christopher Lee in Sherlock Holmes and the Leading Lady, with Morgan Fairchild as Irene Adler. The story, about Holmes and Watson's adventures in "retirement," did well enough in the ratings for the duo to follow up a year later with Incident at Victoria Falls, this time featuring Jenny Seagrove as Lillie Langtry. He also played Watson alongside former James Bond Roger Moore in Sherlock Holmes in New York.
Macnee also played Sherlock Holmes himself in a tv movie called The Hound of London.
Though most people will remember him for his work in The Avengers, Macnee was a versatile stage and screen actor who also wrote his memoirs and contributed to several other books. His third wife
Baba Majos de Nagyzsenye preceded him in death, in 2007. He leaves behind 2 children and one grandchild. He will be missed.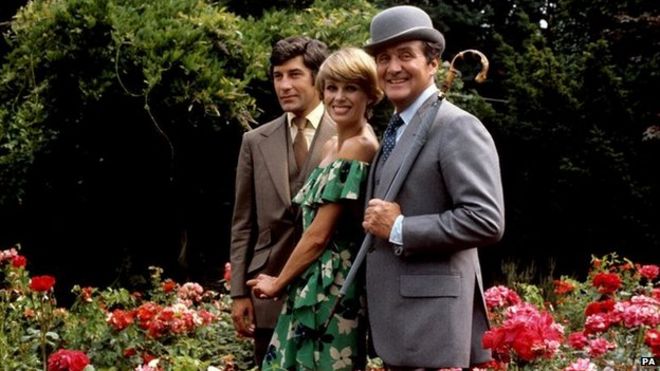 Patrick Macnee as John Steed in The New Avengers, alongside Joanna Lumley and Gareth Hunt.