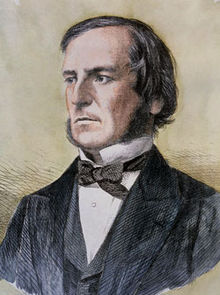 It's not even that I'm fully persuaded by the argument. I'm just completely in love with the drive these folks have to get everyone to know who George Boole was, and the contributions he made in the fields of mathematics and philosophy.
'If the Boole-Moriarty link can be established, then every literate person on the planet will know about George Boole too' ~ Prof. Des MacHale
I think their logic is sound: "Those crazy kids have been talking about the Napoleon of Crime for AGES, so maybe we can hook 'em, right?!" And you know what? I'm hooked. Now I know a little bit about George Boole, and I'd like to watch the documentary described at the end of the article. I'm completely on board with this! I've gone all pink! I'm waving the banner!
He's quite dashing, isn't he? Almost as dashing as that Moriarty from the burlesque show in D.C. 😉
Read the full article HERE!