This topic contains 3 replies, has 2 voices, and was last updated by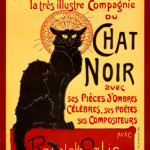 Le Chat Noir 3 years, 10 months ago.
Author

Posts

March 31, 2015 at 3:02 am

#624

Vidocq

Participant

I wasn't sure if I should put this in the Radio, Theatre or here but I guess it's a huge part of the Granada legacy.

The Secret of Sherlock Holmes, co-written by Jeremy Paul and Jeremy Brett, ran in London's West End from 1988-1989, and starred Brett and his longtime co-star Edward Hardwicke.

The only recording of this performance was an ambient tape recording. Due to the breakdown of tape over time before the advent of mp3 conversion, it was very muddled and difficult to listen to, but Soundcloud user Alison Carter, reduced the background noise the best she could and made it more listenable.
Click here to listen

You can read my movie reviews in spanish at SofaPerdido.net

March 31, 2015 at 12:01 pm

#629

Le Chat Noir

Moderator

Oh wow! I don't think I even knew there was an audio recording, never mind a cruddy one! Go Alison and your mad tech skills!

(I guess this could go in theater, but it's Brett and Hardwicke, so that's totally Granada. I think here is best.)

"Oh, you can't help that," said the cat. "We're all mad here."

April 2, 2015 at 3:46 am

#660

Vidocq

Participant

I'm surprised no one had the vision to record a night and sell the tapes or show it in PBS or something. I can't believe there wasn't a demand for it. Can you imagine the ruckus if Ben Cumberbatch and Martin Freeman starred in a Sherlock Holmes Theatre production today? Just makes no sense to me that no one saw the bussiness opportunity, specially in the 80's.

You can read my movie reviews in spanish at SofaPerdido.net

April 3, 2015 at 1:37 pm

#669

Le Chat Noir

Moderator

Well, I don't know if the issue is just vision, actually. I'm thinking of how passionate people were about getting National Theatre to record and sell Cumberbatch and Jonny Lee Miller's Frankenstein (which was AWESOME, by the by). Everyone was freaking out, talking about how much money they could/would make, etc., but the company pushed back, talking about contracts and things. It wasn't that they didn't consider it; they seemed to just be unable or unwilling to go along with demand?

On the other hand, I have cheerfully purchased Much Ado About Nothing with David Tennant and Catherine Tate (brilliant!), Oklahoma! with Hugh Jackman (kill me now, it's so gorgeous!) and I'm about to nab The Crucible with Richard "Mr. Sex" Armitage. I have no interest (or need) to go looking for bootlegs — I'm absolutely thrilled to buy them straight from the creators/producers. I wish this would catch on with all of these kinds of productions, where people who either cannot physically get to the theater or cannot afford getting to the theater would still buy up 10 copies just on principle.

"Oh, you can't help that," said the cat. "We're all mad here."

Author

Posts
You must be logged in to reply to this topic.