This topic contains 3 replies, has 2 voices, and was last updated by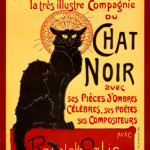 Le Chat Noir 5 years, 5 months ago.
Author

Posts

April 10, 2015 at 12:49 pm

#752

The first event I plan to attend this year is the Spring Meeting on Saturday, May 9. Anyone going? Want to sit with me? 😀

I keep wanting to go down for the ASH Wednesday dinners, but right now I teach an 8 a.m. class on Thursdays, so … yeah. NO. Hopefully over the summer I can make it.

"Oh, you can't help that," said the cat. "We're all mad here."

May 13, 2015 at 3:47 pm

#871

Quick recap: The brunch was wonderful! Don't know about ASH? Click ME!

Long story: I absolutely failed at time management on Saturday morning. My train was delayed and when I got to the Port Authority to catch the subway down to the restaurant, I was already late. So I chucked caution to the wind and hailed a cab. Another small SNAFU was that the restaurant had recently changed names, and no one was aware of this. My poor cabbie was befuddled, and frankly, everyone on the street was bewildered. Thank goodness, some nice waiter saw me struggling and said, "Are you here for a Sherlock Holmes thing?" I wanted to say, "What makes you say that?" but I actually said, "OMG yes please tell me you are the right place because I am so late!"

I got there at about 12:20, but nothing had started yet. The absolutely delightful Evelyn Herzog, (ASH's fearless leader) came up to me immediately and greeted me. She was so warm and friendly; I felt very welcome. When I went to grab my name tag, I saw that two members of my Hudson Valley scion were going to be there, and I got bouncy. Alas, they did not make it. I took a seat and immediate got chatting with a lovely lady next to me.

The program was really fantastic. As with most scion meetings, there were the toasts. Several people stepped up to give presentations revolving around the theme of love (or lust, in one absolutely bizarre and terrifically entertaining case). One of my favorite moments was when someone mentioned "Moriarty" and everyone in the room hissed. I was beyond amused with life. Everyone did a nice job, and I was in awe at how many people used their phone to read their pieces. It was an absolute marker of the fact that it's 2015, even if we're all happy to pretend it's 1895.

A sentimental moment was shared by all when Evelyn recognized the passing of several ASH members, including Joe Moran (ASH, BSI). Mr. Moran's family attended, and it was really sweet. Some of his collection of Sherlockiana was there on display, and at the end of the event, people were invited to choose an item to take home. It was a wonderful way to honor his memory, I think.

The brunch itself was wicked tasty. My table was a hoot. We talked some Sherlock, but we talked a lot about our pets. Everyone whipped out their phones to show off the fur babies. I was, of course, in heaven, showing off Sabrina. After we wrapped up, we all stood around chatting, and I got invited to attend a few new scion meetings. I'm really hoping to make some! A very nice person suggested I pen a piece for "The Serpentine Muse" (ASH's quarterly publication), and I'm actually going to give it a whirl. The organizer of Scintillation of Scions was there, and I got to compliment her in person on how wonderfully organized the operation is. Several folks said they'd be in Baltimore next month for the con!

All in all, the brunch was brilliant. I had an excellent time, and I can't wait for the next one (a dinner in the fall, I think). The group was totally fun and they did a great job welcoming new folk. A+++, great event, will shop again.

"Oh, you can't help that," said the cat. "We're all mad here."

May 15, 2015 at 3:50 pm

#887

ScarletSherlock

Moderator

YAYYYYY. I have always wanted to go to an ASH brunch! Every ASH member I've ever met has been terrific and awesome. I love them!

"My name is Sherlock Holmes. It is my business to know what other people don't know." BLUE

June 30, 2015 at 12:34 am

#1114

Wednesday July 1, 6:30 p.m. — ASH Wednesday! I'll be there; will you? Come say hello! I'll be wearing … something. Maybe a dress. Maybe a blue dress with kitty cats on it. I actually do own this dress. It's very comfortable and identifies me as a crazy cat lady pretty darn quickly. So there's that. 😀

"Oh, you can't help that," said the cat. "We're all mad here."

Author

Posts
You must be logged in to reply to this topic.