This topic contains 7 replies, has 4 voices, and was last updated by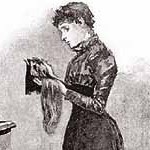 Violet Hunter 5 years, 5 months ago.
Author

Posts

August 17, 2015 at 4:09 pm

#1255

Greetings all, Violet Hunter at your service. *bows*

I *think* I was Katharos Drakkina on the old forums, but since I was a member for all of two weeks in 2008, I'll forgive you if you don't remember me. 😉 You might also know me as kathie_d on LJ… and I have various fanfic writing pseuds which I keep secret. 😛

About me… I'm a scientific researcher by trade, in the field of physiology, so I love all things which connect Holmes and medical science. I once attempted to write a steampunky Holmes story in which he invents the field of molecular biology, but it got a bit lost when I started my PhD. 😛 My favourite story is SOLI, because of all the feminist connections (and because I love cycling). My favourite Holmes is Jeremy Brett, but Clive Merrison will always be a very close second. His voice is like liquid gold, I love it. My favourite Watson is Jude Law. I thought he was just wonderful as a long-suffering Watson, and his costumes were lovely. I also have a very soft spot for the Russian adaptation of Sherlock Holmes, although I think I don't have the English subs for all of it, so I had to make up the dialogue as I watched! I was once a member of the Sherlock Holmes Society of London, but it proved to be too expensive for me. 🙁 I also used to be really active in the Holmes/Watson community, but sort of got scared off after BBC Sherlock was such a hit, and 99 % of the fic was modern (no hate for BBC Sherlock fans, it's just not my bag baby!).

What else? Errr… I believe Watson married twice, Holmes went to Cambridge, Adler is no love interest, and I have no preferred chronology.

ScarletSherlock invited me here from the delightful capslock_holmes community on LJ. We are buddies across other fandoms too (LOKI!).

August 18, 2015 at 7:44 am

#1268

Le Chat Noir

Moderator

Welcome, welcome, welcome!

I do so love capslock_holmes … we need more (moar?) or that sense of humor out and about in the world.

You seem to be doing just fine posting and whatnot, but if you run into any trouble, just holler! We're planning to do another tweet-along next Friday, though I know time differences are sucksville, but if you're interested, we could make some adjustments?

Cheers! 😀

"Oh, you can't help that," said the cat. "We're all mad here."

August 18, 2015 at 10:25 am

#1270

ScarletSherlock

Moderator

HAAAAAAIIIII!! I'm so happy to see you here. HOLLAAAA for Clive Merrison. He's so amazing. I have actually not seen any of either of the Russian Holmes shows because of the subtitles thing…I should look into that!!

As someone who really doesn't have much knowledge about the universities, what makes you pick Cambridge? I'm just curious and I have no horse in that race at all.

*weeps over Loki*
*waits 20 years for Tom Hiddleston to play Victorian-era Sherlock Holmes*

"My name is Sherlock Holmes. It is my business to know what other people don't know." BLUE

August 18, 2015 at 12:50 pm

#1275

Sherbethed

Participant

Haaaaaaiiiii! *waves*
Jeremy Brett and Clive Merrison, yaaassss. Heh, I need to remember to try for both the Russian Holmes shows sometime, with subs! I hate watching characters speaking in another language and being unable to understand them!
Cambridge… like Dorothy Sayers' headcanon? Niiiice, I'm for Cambridge, too! And Watson being married twice (although I have massive feels about Mary having to die…). Irene, I have no problems with shipping in adaptations/pastiches, but I do agree, she's not actually a canonical love interest.

You brought me back for more than my sparkling wit and good looks.
—Sherlock Holmes, Sherlock Holmes in the 22nd Century

August 18, 2015 at 3:26 pm

#1276

I dunno if I will make a tweet along… two reasons really. Reason 1. Friday night is Hannibal Night for me and the DH. 2. My twitter is mainly for science stuff, and various official twitter accounts follow me, and I… errr… yeah. 😉 What are you watching though?

I'm totally just biased on Cambridge, because I'm from there. 😉 BUT, he did seem to know his way around in MISS very easily (which makes for an interesting read, all the villages miles away from the town which are just suburbs now), and was able to get a hold of the dog very quickly. Plus, his Uni buddy was from Norfolk, and it seems to me someone from Norfolk would be more likely to pick the more local Cambridge over Oxford. Also, Cambridge is known more as the 'sciencey' one (not in Victorian times arguably, but more like after we invented basically everything to do with DNA. BUT WHATEVER). As for college, I have no data. 😛 I'll say Emmanuel, again because I went there. 😉 I also always read 3STU as being in Cambridge just because it's easier to furnish a story with your own surroundings I guess.

I've never read any Dorothy L. Sayers…. my bad! :O The Mary feels. Yes. Another thing I liked about the Iron Holmes, actually decent believable lovable Mary.

Loving the SH22 icon, btw. 😀

August 18, 2015 at 3:53 pm

#1280

ScarletSherlock

Moderator

The time zones are probably pretty weird too. If you ever feel like you could jump in, let us know and we can try to adjust that. I'm sure I could stay up late. 🙂 🙂 I think we decided on The Great Mouse Detective for this time.

Thanks for that! I love that type of "headcanon." Totally makes sense to me.

"My name is Sherlock Holmes. It is my business to know what other people don't know." BLUE

August 18, 2015 at 6:30 pm

#1282

Sherbethed

Participant

@Violet Hunter: You went to Cambridge? Awesome! I don't know very much about the school but it does look like a beautiful place. 🙂 I haven't really read any of Dorothy Sayers either; it's just a factoid I picked up years ago (and I only recently read the original article, but it'd take a while to re-find the link).
Yeah, I love Kelly Reilly as Mary, and I love Amanda Abbington. Makes my heart so happy. <3
Re my icon: squee, thanks! I actually made it as cover art for a Beth playlist on 8tracks and downsized the image for my icon. 😀 I love making Beth edits and graphics.

You brought me back for more than my sparkling wit and good looks.
—Sherlock Holmes, Sherlock Holmes in the 22nd Century

August 22, 2015 at 9:56 am

#1293

Cambridge is beautiful, but very very weird.

Did you guys watch Basil then? I wouldn't have been able to join in anyway as there was an impromptu party at mine (I hide in the bath with a book).

Edit: Oh, I see you have scheduled it for next week. Well, that's 2 am my time, so I may pass. 😉

Author

Posts
You must be logged in to reply to this topic.