This topic contains 4 replies, has 4 voices, and was last updated by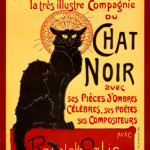 Le Chat Noir 5 years, 5 months ago.
Author

Posts

July 24, 2015 at 7:25 pm

#1191

Vidocq

Participant

I really wonder why this didn't become huge with the Sherlock Holmes boom recently, a YA Sherlock Holmes novel about a smart, liberal, nerdy girl who is mentored by Holmes into become a world class sleuth. It's as if the #SherlockHolmes in Tumblr had a premise. I've always been curious, but I've been putting off giving it a try since 2008 when I first heard about it in H.net. Would you guys recommend it?

You can read my movie reviews in spanish at SofaPerdido.net

July 27, 2015 at 9:21 am

#1194

ScarletSherlock

Moderator

I personally really love the first couple of books. I credit (blame?) Russell for getting me back into Holmes after a long hiatus from about age 10 to age 19. I loved her at first! She was awkward and gawky just like me, and the first book made her really interesting and made Holmes quite accessible. Then King had to go and marry them off, and my interest began to wane. There is never anything like an explicit love scene between them, not in any of the books, but Russell became increasingly dislikeable to me over the course of the series. I would say I love everything from The Beekeeper's Apprentice to The Game, but she lost me after that. I especially enjoyed listening to the audio versions read by Jenny Sterlin – she has a feel for all of the characters and does a really good Holmes, in addition to Russell.

I have nothing but respect for Laurie R. King. I've met her twice and she is lovely; additionally, she knows her Canon so well and she has quite the sense of humor about her own character. I know our own Solitary Cyclist is a big fan; there were quite a lot of Russell fans on HN. I would absolutely recommend the first book, and then decide yourself if you want to go on from there.

"My name is Sherlock Holmes. It is my business to know what other people don't know." BLUE

July 27, 2015 at 6:00 pm

#1196

LostWithoutMyDetective

Participant

Yeah, I have mixed feelings about these. If I'm completely honest, I had to stop reading after the first couple because *blushes* I actually envy Mary for getting to marry Sherlock! I'm not a completely delusional fangirl, though – I'm aware that being married to the Great Detective would be frustrating as bleep most of the time. The second thing is that I don't approve of how the author treats Watson, it put me in mind of Nigel Bruce's portrayal in the Basil Rathbone films. Okay, yes, next to Sherlock Holmes, the everyman is always going to look slightly dim, but I wish King's main characters would show a touch more respect for the considerable intelligence a fully-qualified doctor and published author would have to have in order to keep company with the Great Detective.

Mrs. Hudson took my skull.

July 28, 2015 at 10:48 am

#1197

ScarletSherlock

Moderator

King herself said she regrets her Watson portrayal. Last I heard she has plans to write a book from Watson's point of view. Her next one "The Death of Mary Russell" is actually all about Mrs. Hudson. It is a pretty terrible Watson portrayal.

For me the marriage was completely unnecessary. I would've enjoyed these so much more without it. I don't see why she couldn't have been an apprentice/later on detective; not much would even really change about them, tbh.

"My name is Sherlock Holmes. It is my business to know what other people don't know." BLUE

July 28, 2015 at 1:22 pm

#1199

Le Chat Noir

Moderator

These books are really not my cup of tea. It violates the main tenet of my derivative fiction rules:

1) Must Respect Watson (unless some kind of AMAZINGLY COMPELLING ARGUMENT IS MADE).

I've seen compelling arguments made (once or twice), and I've enjoyed the stories, but that is sooooo the exception to the rule. That's usually the only thing to make me throw a book across a room or close the tab on my laptop.

Beyond that, the romance was awkward and unbelievable to me. I didn't identify with Mary Russel, and I didn't particularly like her (as an identity and as a character construction). The mystery wasn't enough to keep me entertained. I bought several of the books because Sherlock Holmes belongs on my bookshelf at all times, but I couldn't even finish the first in the series.

"Oh, you can't help that," said the cat. "We're all mad here."

Author

Posts
You must be logged in to reply to this topic.