This topic contains 0 replies, has 1 voice, and was last updated by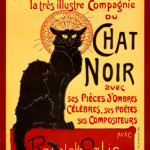 Le Chat Noir 4 years, 5 months ago.
Author

Posts

July 4, 2015 at 12:14 pm

#1136

Le Chat Noir

Moderator

Last weekend, I traveled to Bloomington, Indiana, and thank goodness, ScarletSherlock was kind enough to advise me regarding the Lilly Library on the Indiana University campus. Turns out the Lilly has a beautiful collection of primary documents and books related to Sherlock Holmes and Arthur Conan Doyle. Thank goodness, I found out on Friday night that the library was only open from 9 a.m. to 1 p.m. that Saturday, so I planned to be at the door at 8:55 a.m.

First, kudos to the wonderful staff at the Lilly. Everyone was very helpful and very friendly (not only did I get served primary documents, I got recommendations on where to have lunch after I was finished at the library!). I really appreciated how kind they were.

I put my things in a complimentary locker, but I did keep my phone with me. I filled out a form and was buzzed into the collections room. I had to be put into the system and whatnot, and then I was shown how to handle the card catalog. The person working with me pointed out that titles in red meant that they were primary sources. I said, "PLEASE BRING THEM TO ME PLEASE YES THANK YOU."

This was my POV while I was waiting, getting a bit bouncy:

The gentleman brought out a large grey folder, and another person "prepared" my work space so I could explore. Most of the documents were just … raw. No coverings, no nothing. My the paper and ink and me. I was in heaven.

There were several letters of BSI correspondence:

I took a picture of this particular letter because I could make out some words (BSJ, Sherlock Holmes original mss., Priory School, Red Circle, etc.), but I couldn't make out a lot of it:

And then, of course, it was a true pleasure to touch a letter in Doyle's hand:

And then here, one of the drawings of Holmes that were in the folder:

But of course, this was my absolute favorite: Doyle wrote Holmes' note to Watson from Reichenbach Falls:

Though this was a close second … or a tie for first? An original STUD. 😉

Okay, this was my second favorite thing. The gentleman helping apologized for it not being a manuscript of a better story! We laughed and I said no apology was needed. He then told me a story about Mr. Lilly's (wasted) opportunity to purchase the original manuscript of SPEC. We both shed a tiny tear.

They have several first editions, but after seeing the manuscript and Beeton's, I didn't feel the need to see each one. I did want to see HOUN, and it was quite beautiful:

I finished up by asking for the drawings and sketches of Gilbert Kieth Chesterton (1874-1936), for the simple fact that I LOVE FANART as a general rule. I just love it. So getting to see a contemporary of ACD's work was too cool to pass up. So this is Reichenbach?

And this is … something … where Holmes is holding a butterfly or a model airplane over someone's head? IDK

I have more of these if anyone wants to see them.

My conclusion: The Lilly Library is beautiful, the staff is wonderful and the collection is just a blast.

"Oh, you can't help that," said the cat. "We're all mad here."

Author

Posts
You must be logged in to reply to this topic.