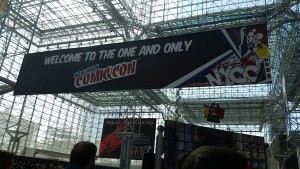 So, as many Twitter followers noticed this weekend, I attended New York Comic Con at the Javits Center in Manhattan. It was beyond incredible on so many levels, but I certainly enjoyed all of the Holmesian aspects. Here's an overview with a skew towards Holmes, but if there's anything you have questions about, feel free to ask!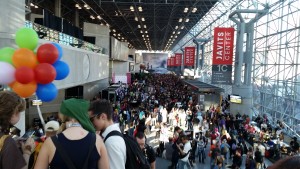 My first goal on Friday was to make the "Elementary" panel at 1:30 p.m. This year, some panels were actually held off-site at the Hammerstein Ballroom, so I was slightly nervous about 1) finding the place and 2) getting there in time to get in and get a good seat. I got down to the city early-ish, and got to walk around the main exhibitor room for a bit before we hoofed it to the Hammerstein. Because I love Jonny Lee Miller and Lucy Liu very much, I endured about 20 minutes of the "Adventure Time" panel in order to be able to rush for a front seat. As those fans started to shuffle out after the end of that panel, I did the wiggle-smush dance to get up front. I don't hit or push, but I do shimmy, slide and squish! I managed to get my friends and me up to the fourth row, on the aisle, so I had a straight, unobstructed view of the stage.
Nutshell: Jonny Lee Miller is not only fit af, he is charming and warm and lovely about the fans.
Nutshell: Lucy Liu is straight up gorgeous and elegant, and she is passionate about the show. She also wears insane shoes.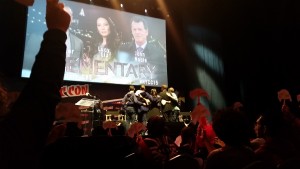 The ballroom was packed, and that was pretty awesome. Everyone was screamy and excitable, so it was fun. They showed a longer trailer for season 4 first, and then the gang came out: JLM, LL, John Noble (Father Holmes) and Rob Doherty (show creator/runner). The moderator was pretty good (no where near as side-splittingly awesome as the "X-Files" mod, but that's another story), but the real treat was how thoughtful and sincere the panelists' responses were. It was apparent to me that the actors really cared about the work and the show, and as a fan, that was just thrilling. JLM stopped the moderator before he opened it up for Q&A to say a few words of appreciation for the fans in attendance and the fan support in general. I was really impressed.
The best moment of the Q&A was when a girl (who was seated right in front of me, actually) got up to the mic and said that, when she watched other Sherlock Holmes shows, Holmes seemed rather inhuman, but JLM brought actual human warmth to the role. The audience went ballistic, as did I, but unfortunately there were all the people in line for the mic and I couldn't see JLM's reaction. JLM talked about the humanity that was embedded in ACD's work, and again, the crowd went wild with approval. It was a great affirmation for me that "Elementary" is as valid an interpretation of Canon as any other televised fan fic, and it's in no way ""faux-Holmes" or any other such nonsense. I'll revisit this irritation later in the narrative, but suffice it to say that we were all just a bit more in love with JLM.
After the panel was over, I went back to do some Sherlockian shopping. One of my primary goals every year I attend is commission an artist to draw me a Holmes. It's a perfect memento for me, as I go weak in the knees for talented artists. Here are two of my faves from Comic Cons past:
I dragged my poor crew up and down the rows of Artists Alley, searching for the One.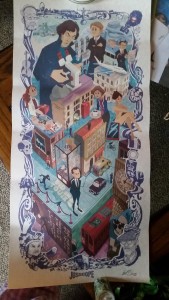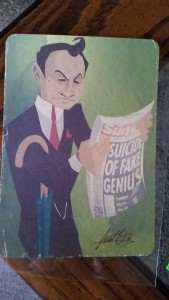 I found these treasures (left), and then looked to the right of that artist and noticed a very gifted fellow. And he was offering commissions for what I considered a reasonable price. HaiNaNu "nooligan" Saulque couldn't have been more charming, and he seemed genuinely thrilled to be asked to draw Holmes! My caveat to all artists is that I do NOT want them to draw a recognizable actor as Holmes. I don't want Basil Rathbone (even if he's my spirit animal), I don't want Jeremy Brett (even though he's possibly my fave) and I damn well don't want Cumberbatch, because he is [REDACTED] everywhere. I always ask them to create their own version of Sherlock Holmes — whatever he looks like to them. That's how I've wound up with the most gorgeous collection of original Holmesian artwork (if I do say so mahself)!
Anyhoo, nooligan asked if I minded that his Holmes was more old school-deerstalker Holmes; I said newp, not at all. I then left him to his work, and continued shopping. When I picked up my nooligan!Holmes the next day, I was over the moon! Isn't it lovely?
I next found "Moriarty," a graphic novel by Daniel Corey, with artwork by Anthony Diecidue and Mike Vosburg. Corey was very nice, and while I am relatively disinterested in autographs, I enjoyed getting him.
The next Sherlockian purchase was one of the more interesting exchanges of the weekend. I came across Tom Richmond, who drew that classic line up of Sherlock Holmes portrayals. Now, normally, this is exactly the kind of art I do not want, but eh, it was there and the artist was going to sign it. And frankly, if it's Holmesian, that means I'm highly likely to buy.
As I was completing the purchase, I asked him, "So, are you going to do another draft of this to add Jonny Lee Miller?" And he said something along the lines of "Oh no, why would I do that?"
Me: Well, many of us really enjoy "Elementary."
Him: Oh no, I spoke with real Sherlockians before I made this. No one wanted JLM on the poster. A lot of people don't like the show. You either love it or hate it.
Me: Well, I speak with a lot of real Sherlockians too, and a WHOLE LOT OF THEM LIKE JLM.
I'm strongly considering a #hashtag campaign. 😀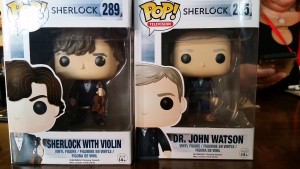 During my meanderings, I also bought the "Sherlock" Funko dolls because science. I got a strange little sticker/cling thing, but again, it was Holmesian so it done got bought. All in all, I had a very lovely (if expensive) Sherlocky time at NYCC!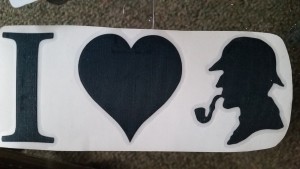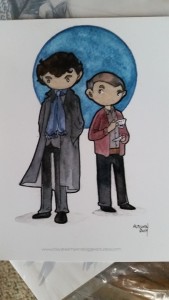 The only big thing I did that was non-Holmesian was attend "The X-Files" panel. That literally knocked my socks off. It was  ah-maha-zing. Amazeballs. Unreal. They were super on top of keeping people from recording the episode, so I have no vids, but if you want any spoilers, I'm happy to dish. After they screened the entire ep, David Duchovny, Mitch Pileggi and Chris Carter came out for about a 20-30 minute panel talk. It was crazy awesome. I took a little video of that, after I was sure the Men in Black weren't going to pounce on me.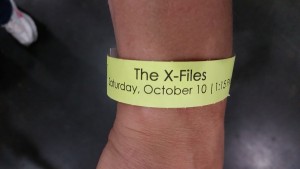 There's no doubt in my mind that I'll be attending next year, because I absolutely adore this con. It's not too big, so you can move and actually see what you want to see. NYCC is just precious, and a great event to look forward to. If you attend next year, let's do a real Holmesian/AitB meetup!