from Nellie Andreeva at Deadline: 
A supernatural crime drama inspired by the unlikely real-life friendship between Sherlock Holmes author Sir Arthur Conan Doyle and illusionist Harry Houdini Houdini is headed to the small screen in the U.S., UK and Canada. I've learned that Sony Pictures TV has sold the 10-episode series to Fox, the UK's ITVand Canada's Shaw Media. Titled Houdini And Doyle, the drama — which will go straight to series — hails from The Librarianfranchise creator David Titcher, House creator David Shore and House writer-producer David Hoselton. Canada's Shaftesbury and the UK's Big Talk co-produce, with Sony TV, where Shore is under an overall deal, distributing worldwide. Fox had no comment.
Houdini And Doyle, two of the great characters of the 20th century — Houdini, master magician, escape artist and paranormal debunker, and Doyle, creator of the world's greatest detective and a paranormal aficionado — grudgingly join forces to investigate crimes with a supernatural slant. Although they're both rich, famous and brilliant, they're the original odd couple, with Houdini believing in nothing, Doyle in everything.
Houdini and Doyle were born 15 years apart into dramatically different families — Doyle the educated product of a proper Scottish upbringing and Houdini the self-made son of a Hungarian immigrant. The two men, whose physical appearances also were in stark contrast, stroke an unusual and often rocky friendship based to their mutual interest in spiritualism.
History's 2014 miniseries Houdini, starring Adrien Brody as the famous illusionist, touched upon his relationship Doyle, who was played by David Calder.
Titcher and Hoselton wrote the script for Houdini And Doyle and executive produce with Shore and Big Talk's Kenton Allen, Matthew Justice and Luke Alkin. The Librarians, based on Titcher's TV movie franchise, has been a breakout series for TNT and was renewed for a second season. Shore is executive producing the new CBS series Battle Creek with Vince Gilligan and the CBS pilot Sneaky Pete with Bryan Cranston.
Titcher is repped by APA and Alexander Lawrence; Shore is with ICM Partners and the Shuman Co. Big Talk is repped by WME.
Thoughts?? This will be the second tv series to feature Doyle in two years, the other being the current UK series Arthur and George, which is based on the novel by Julian Barnes. The novel itself is based on Doyle's relationship with George Edalji. Edalji asked for Doyle's help in exhonerating himself from a series of crimes, in the early 20th Century. Arthur and George will air on Masterpiece PBS (USA) in the fall.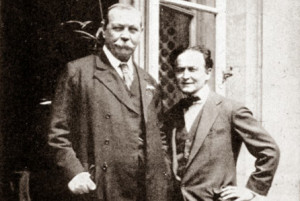 Sir Arthur Conan Doyle (left) with Harry Houdini