WordPress database error: [Table 'arti2483599310.wp_35ysk49ff0_ppress_meta_data' doesn't exist]
SELECT * FROM wp_35ysk49ff0_ppress_meta_data WHERE meta_key = 'content_restrict_data'
So … this is very late! I meant to write this up immediately, but other Sherlockian drama got in the way and I wound up putting this off for ages and days. Finally, it's Spring Break for me, so no teaching and thus I have time to put fingertips to keyboard and spell all of this out.
First, I absolutely have to acknowledge that I am fortunate in that I live in New York (Hudson Valley, holla!) and I work at a college, so I have the luxury to go down to New York City in January at a whim. I know it's very challenging for most people to make it to the city for the Birthday Weekend, and I would love to make inroads into making that more feasible to people.

I took the train in on Wednesday so I could be there early for the Adventuresses of Sherlock Holmes' (ASH) wonderful opening dinner party. I happen to really love the ASH parties — these cats are fun and they totally know how to throw a soirée. I found it very easy to circulate and mingle with old friends and new. I only got into one testy debate regarding BBC "Sherlock" and "Elementary," but it was easily shut down and I got back to the business of cheerful eating, drinking, and chatting. I find the ASH folks to be so kind, so charming, and so welcoming of everyone. That's the sort of community to which I want to belong.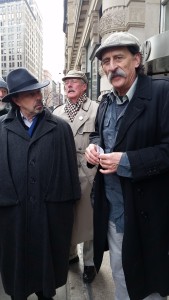 A distinct highlight of the second full day was the Christopher Morley Walk. It was actually a really nice day, and bundled appropriately, a large group of us wandered with Jim Cox as he led the crew through Manhattan,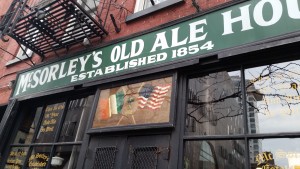 learning about the relevant Morley sites. Again, I had the pleasure of visiting with old friends and meeting new ones.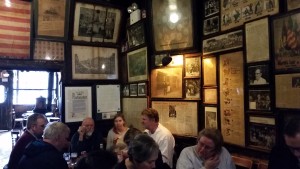 We ended our walk at McSorley's, which was just divine. I had the joy to sit next to Kristen Pedersen Prepolec and her beaux Charles, who traveled so far to be with us. Delish food, good drink that was made extra awesome by the fact that the chap brought out like 8 drinks in each hand! I tried to get a pic but failed. Boo on me.
On Friday, I enjoyed the William Gillette lunch during the day. I had the pleasure to sit next to the wonderful Nick Martorelli, who is funny as hale. We shared notes on bringing significant others to major Holmesian events, so I felt extra better about bringing my Little Bird (LB) to the Gaslight Gala that night. Nick and Sir Chris Zordan are the grand masters of the Gaslight Gala, FYI. The Gillette lunch was incredibly entertaining, with presentations and skits to entertain as we munched. Holmesians are the most talented people, I think. Maybe I'm biased, but I think this fandom attracts the brightest bulbs in the factory.

On Friday night, LB and I attended the Gaslight Gala. One must be invited to the official Baker Street Irregulars dinner, and that is … a thing. I have mixed feelings about it. I've been a part of "secret societies" (I pledged Delta Gamma in college, complete with robes and secret rituals and whatever), and a covert Holmesian society seems a bit ridiculous in 2016. (I'll break this down laters 😀 ) I chose my activities for the weekend with a clear mind — I know what I want to be involved in and what I do not. Am a bit head-strong in that way. 
The Gaslight Gala is a joy, and completely welcoming of new Holmesians. LB and I got ourselves gussied up a bit and headed off. The room was gorgeous, the silent auction tables were tantalizing, and the food was quite delish. The atmosphere was so light and so friendly — I was so happy to have the Gaslight Gala as LB's first introduction to the Holmesian world. Nick made sure the programming went along smoothly, with humor and charm. The toasts were just brilliant — funny and thought-provoking — and we had ample time to visit with the people at our table. I didn't win anything on the silent auction table, but I was very happy to help check people out. I love seeing people so excited with a win!
It was very important to me to see how lovely everyone was to my LB, who had never attended a Holmesian event. I shouldn't have been worried, but my heart was warmed to see everyone coming up to him, welcoming him, chatting with him, and just being so generous and kind. That's the community I love. Everyone is welcomed to the table, and everyone is embraced.
After the beautiful event, we made our way to O'Lunney's, which is an eternal tradition for Holmesians. Every night is either begun and/or ended at O'Lunney's. I happen to enjoy rituals, so this is so satisfying to me. The folks from the BSI dinner and the folks from the Gaslight Gala (and others attending neither) gather together to visit. It's so lovely and it really speaks to the whole ethos of the Holmesian community — we are so fortunate to have a reason to come together, to share our enthusiasm, to meet wonderful people, and to reaffirm that we are not alone in the world.
We had a wonderful dinner on Saturday night, and then a lovely brunch on Sunday, courtesy of ASH. Yet again, I really loved the ASH event, where I got to visit with good friends, and even see some friends from my Hudson Valley scion (The Hudson Valley Sciontists) who I didn't even know were in the city!
For whatever divisions exist, I have had the pleasure of enjoying the sheer joy of like-minded folks descending on New York City to share the enthusiasm regarding Sherlock Holmes. I honestly cannot wait for 2017.
If you are reading this and would like to join in the fun, but have obstacles, message me. There are some funds set in place to help folks, and I would certainly be happy to talk shop about how to do this trip on a budget.
The next Birthday weekend is January 4-8, 2017. Plan now, dear friends. Please chat with me if you need help in the planning.