Welcome to Art in the Blood — a place for all things Sherlockian and Holmesian!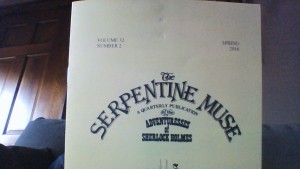 I (Chat) had the pleasure of contributing to the "The Serpentine Muse," the official publication of the Adventuresses of Sherlock Holmes. In fact, even months later, I am going to publish my post-mortem for the BSI Weekend. Better late than never, right?
The delightful Ben Syder took time out of his busy schedule to answer some questions! Please go here to read his brilliant (and funny) responses.
We're starting our first Canon Read-Along now! Please see this blog post to get the scoop. Please go here to post in the first section thread. Please join us and have fun!
It only took 1,000 years, but we've got a calendar that actually seems to work! Huzzah! You can view it by clicking on "Events" in the top navigation bar, or by clicking here.

Le Chat Noir had a chance to chat with Robert Hewitt Wolfe, writer/co-executive producer of "Elementary," and it was an absolutely blast. Please go the blog to read! If you'd like to comment (and we really do want you to!), please take a second and register.

This is a safe place to explore all of the iterations of Sherlock Holmes and the historical context in which he exists. We encourage energetic discussions and welcome everyone's observations. Please use the contact form to register with us or let us know if you have questions.
You may click on the Forums tab above to see the conversations, but you must register to post.
We regularly update our blog with news about Sherlock Holmes, Sir Arthur Conan Doyle and all relevant topics.
You'll see our twitter feed below (@Art_intheBlood) — please follow us! You can also find us on Facebook at Art in the Blood, on Pinterest, Tumblr and Google +.
Above all, have fun and spread good will!
Cheers,
Chat and ScarletSherlock, your friendly neighborhood moderators

Canon Quote of the Month
 "'This fellow may be very clever.' I said to myself, 'but he is certainly very conceited.'"